With yesterday the official start of Spring I feel like jumping up and down for joy. Already bluebonnets are out and I can't help by drive down I-45 saying, "ooooo ahhhh."
When new Spring styles come out I always feel like Meryl Streep in The Devil Wears Prada.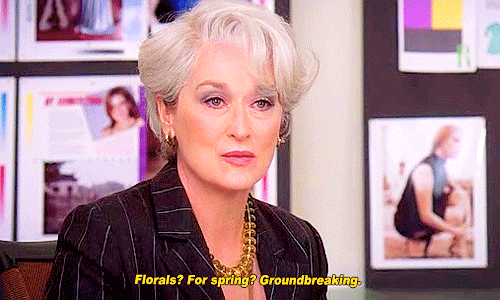 It just always feels the same to me. But I'm kind of excited about these trends, because well...they're sort of like the Fall trends and I was obsessed with those.
Red lips.
I'm mean...let's be honest. You know I'm obsessed with red lips. It's an instant confidence booster.
Eyeliner and lush lashes.
I can't tell you how excited I am about this. I've been all about eyeliner for years now. It's my signature look. I'm happy that society is finally catching up.
I blame the beautiful Lily Collins. Just look at those lovelies.
Blues and greens. Glowing skin. Things like that.
What are your favorite Spring trends?